Earlier this year I worked with the Wisconsin Dept. of Natural Resources on a gun safety campaign. They commissioned me to design a trailer mounted billboard  that would be displayed around northern Wisconsin.
---
Remember, Safe Hunting is NO ACCIDENT! Always point the muzzle in a safe direction.
---
The trailer carries two 16′ X 8′ billboards that are mounted to it and displayed on each side. The DNR had also partnered with the Wildlife & Sport Fish Restoration Program and Vilas County for this gun safety campaign. Working with DNR was a great experience as they knew what they wanted and had all the information and logos that I needed while having  open and swift communication lines.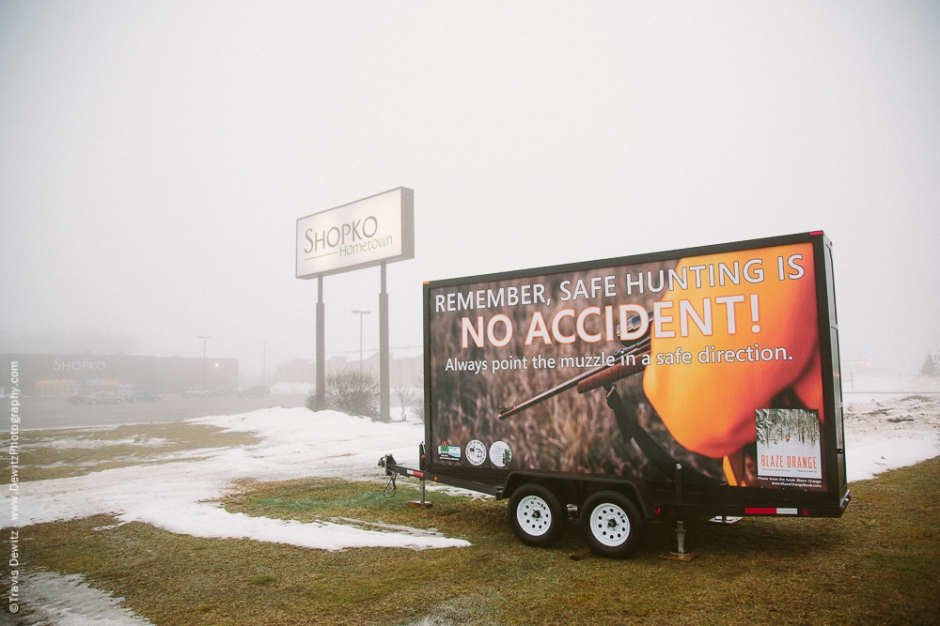 Wisconsin Department of Natural Resources
The DNR is dedicated to working with the citizens and businesses of Wisconsin while preserving and enhancing the natural resources of Wisconsin. In partnership with individuals and organizations, DNR staff manage fish, wildlife, forests, parks, air and water resources while promoting a healthy, sustainable environment and a full range of outdoor opportunities. Learn More
Wildlife & Sport Fish Program
The U.S. Fish & Wildlife Service, Wildlife and Sport Fish Restoration Program (WSFR) works with states, insular areas and the District of Columbia to conserve, protect, and enhance fish, wildlife, their habitats, and the hunting, sport fishing and recreational boating opportunities they provide. The Division of Wildlife and Sport Fish Restoration Program provides oversight and/or administrative support for many grant programs. Learn More

Vilas County
Vilas County was created on April 12, 1893 by act of the Wisconsin Legislature and was named after William F. Vilas of Madison, Wisconsin. Vilas County is home to more than 1,300 lakes. That's one of the largest concentrations of freshwater lakes on the planet, and this is one of the best places you'll find to fish for walleye, pike and panfish. Learn More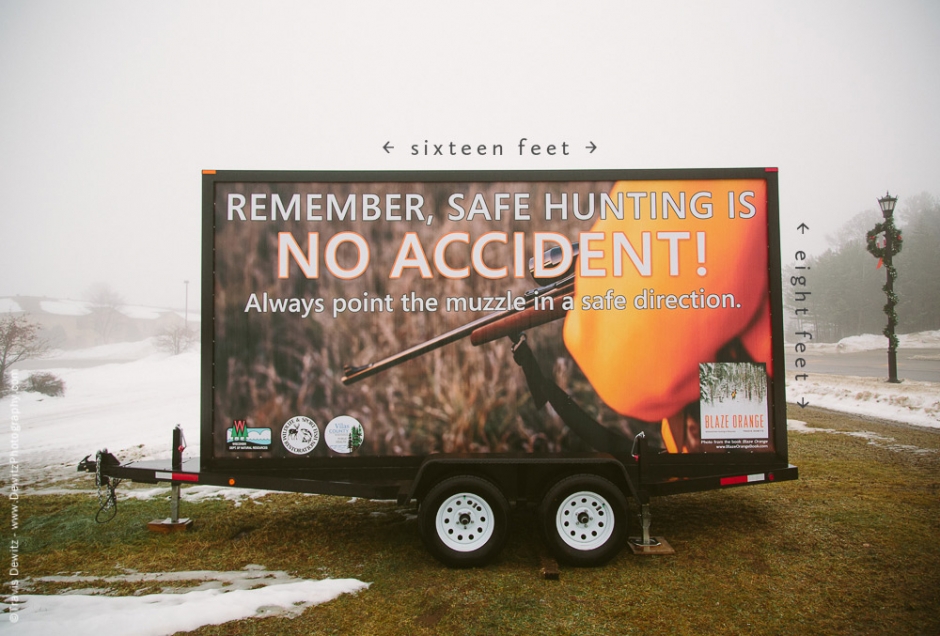 The main criteria for the billboard was to show a clear and concise message about gun safety. The DNR also wanted to show all of the partnerships that were a part of this hunting safety campaign. As with any roadside signage, making your message clear and easy to read from a distance is very important. I also wanted the sign design to be clean while maintaining a strong message. Working with a sign of this size can be challenging to maintain sharp text and images at a close range but was important to me knowing this would be at ground level.