My copy of Blaze Orange, was delivered today. It is amazing to finally be able to hold and feel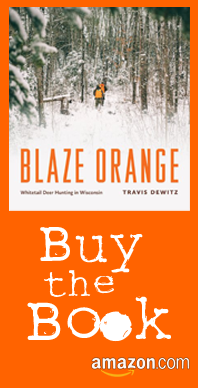 the book I have been working on for almost two years. I first need to say thank you to my publisher, Wisconsin Historical Society Press and to the printer, Worzalla. The quality of this book isunparalleled, even higher than I expected. The look and feel from front to back is impeccable.  I had a lot of say in the making of Blaze Orange, but there are a lot of decisions I wasn't part of. One example is the actual hard cover and binding choices. I don't think you could beat the orange linen cover with embossed title in deep black ink. Even the dust jacket has Blaze Orange embossed in to it. I also really like the quality dark end sheets that they added. The high quality Wisconsin made paper used for the pages carry the beautifully reproduced and sharp images very well. I always knew the book was going to have around 140 pages, but it is still much thicker than expected. I am incredibly humbled by the final product.
Since I have one of the first copies of the book in my hands, I am sure that the pre-sale price will end very soon before it sells at full retail. If you pick one of my books up in the future, I would like to say thank you; as buying my book says a lot of what I created. I have also been told that Blaze Orange leads the pre-sale numbers out of their fall catalog and has been well received by their distributors. Even more of a surprise to me is that it will be sold on a national level, which is beyond exciting. I started my Wisconsin Deer Hunting series shooting for the stars just hoping to get a book deal with any publisher. I ended up getting that deal with my first choice, the Wisconsin Historical Society.  I also only expected a state-wide distribution and at best regional so my wishes have been far surpassed. Thank you to all of you that have had a hand in the creation of this book and for all of your encouragement.