I am very excited to announce that my book project about Wisconsin deer hunting, Blaze Orange, has been offered a book deal through the Wisconsin Historical Society Press. It was a long road to this point and still a long road ahead but it is all downhill at least. It has been one of my big goals to have my photography published in book form and it is so exciting now that it is happening. The Wisconsin Historical Society Press was my first choice in book publishers as their current catalog of books contain a good blend of designs, styles, and topics which are mainly Wisconsin based. All of their books are very well made with great photo reproduction on high quality paper. I really liked the look and layout of a couple of their books which I thought fit my project very well. The book Tavern League : Portraits of Wisconsin Bars by Carl Corey was one of the best examples of books carried by the Wisconsin Historical Society Press that I felt fit the look and feel of my hunting project very well. They also offer On the Hunt : The History of Deer Hunting in Wisconsin which is  more information based with many historical photographs of Wisconsin's deer hunting.
If  you want to stay updated about the release date of Blaze Orange : Wisconsin Deer Hunting visit this page www.blazeorangebook.com/buy for all the info and/or use the spam free email sign up to get the latest publication date.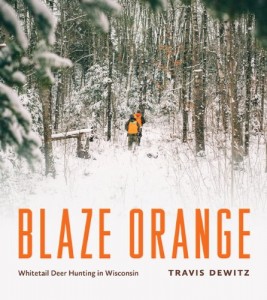 The book is in the very beginning stages of being put together but I plan on including a hunting knife maker, gun shop, deer hide plant, butcher, deer processing, family sausage making, deer camps and cabins, taxidermist, taverns, deer check registration station, cafes, general stores, and deer drives to name just a few. I want to encompass as much of what is part of deer hunting in Wisconsin as I can. I spent the entire deer season driving around the state making contact with hundreds of hunters, families, and their children. The biggest surprise this season was the high number of girls under 14 out deer hunting.
On the books website I am also featuring short stories that I have from being out this year. I am also encouraging others to submit any of their deer hunting stories, thoughts, or memories. I really would love to place them on the page which can be featured with any one of my photos or even one of your own. To read the stories or for more information, go to www.blazeorangebook.com/wisconsin-deer-hunting-stories . 

As more information comes out I will keep you updated. I will leave with a few of the newest photos from the project. Thank you to all of you that have helped me make this deer hunting project a success.